Have you ever thought about reducing your cheekbones? There are many people just like you who have thought about reducing their cheekbones and have undergone plastic surgery to get the look they want. This article, created by the experts at Seoul Guide Medical, will explain in detail an overview of what cheekbone reduction entails.
What is the Zygomatic Bone?

The cheekbone, also known as the Zygomatic or Zygoma bone, determines a large part of the face. It shapes the face and therefore also determines the facial width. This bone can be reduced and shaped to create a smaller protrusion resulting in a more well-balanced look. South Korean plastic surgeons are the pioneers in this field and the experts in zygoma reduction.
Here are a few things you need to think of before packing your bags and coming to South Korea for zygoma reduction through Seoul Guide Medical.
What You Need to Know:
As mentioned above, the cheekbone is also known as the zygoma bone. This bone goes from the upper part of the cheek, below the eye, near the nose. Then it continues from the upper part of the cheek, below the eye to near the sideburn area.
The Surgery
With this surgery, there are a few steps the plastic surgeon will follow. However, each plastic surgeon has their own "handwriting" so it may differ slightly. Generally, the surgery will take about 1 hour to complete. Here is what you can expect by going through Seoul Guide Medical on your surgery day:
  1) Our expert SGM in clinic consultant will take you through a final consultation and the paperwork needed to get your surgery.
  2) You will enter the surgery area and undergo anesthesia. This means you will be asleep during the procedure and not feel pain. This procedure is usually done under general anesthesia which requires fasting beforehand for 6-8 hours normally but this can change depending on the doctor's methods. 
  3) The surgeon will make one incision inside the mouth and a second incision on skin, near the sideburn to provide access to the zygomatic bone (cheekbone). If the bone is simply cut vertically, only a small reduction is possible in facial width. To maximize your own body's potential, expert surgeons can make two distinctive cuts. The first cut, near the nose area, can have High-L Osteotomy. This methods calculates the maximal malar projection (MMP), and then the most protruded part of the cheekbone can be reduced. This ensures a 30-9 degree wide area reduction of the cheekbone. By contrast, the Low-L Osteotomy method makes the cut or fracture on the bottom side of the zygoma allow thus only allowing a 45-90 degree lateral area reduction. The result of this method is a non-optimal reduction in the cheekbone.
The next cut the surgeon makes is near the ear and sideburn. If the cut is done in a diagonal manner, the most amount of protrusion reduction can occur. If the cut is done in a perpendicular manner, the reduction in facial width will be less. After each cut, the excess zygomatic bone will be removed and the remaining bone pushed inwards. 
  4) The cheekbone is reattached in desired place and fixated with screws to make it secured and so it can heal on its own. Drains are usually placed as to prevent excess fluid build-up. These will be removed the day after surgery. These screws won't set off any metal detection alarms, such as those at the airport.
  5) The incisions are then closed with stitches and the healing process can begin.
This description can always change due to the patient's needs. For this surgery, the bone needs to be double fixed and thus requires small screws with possible attaching plates. 
Screws and plates might sound scary but it's for your own benefit. These processes help the cheekbone to heal correctly without causing permanent damage. Dissolving screws and plates can also be used in cases like this but there isn't a lot of research done on it yet. Possible issues could be infection due to low degradation. If an infection occurs and it is too severe, the plates need to be removed or if there is no plate, internal damage could occur. Therefore, we recommend the standard titanium screws, because we know that they work. It has proven itself over time.
Low-L Osteotomy and High-L Osteotomy
As described in the previous steps, there are two main methods to reduce cheekbone projection from the front part near the nose. This area has the greatest impact on the reduction of facial width so we will explain it in a bit more detail here. 
There are 2 different kinds of cuts when it comes to this surgery. One is Low-L osteotomy, also known as Low-L, which is a cut at between 45-90 degrees. This is done by creating a cut towards the backside of the cheekbone's highest point. However, an issue with this cut can be that there is not enough reduction and the change would be too small for the patient's satisfaction. 
The method that is mostly preferred is the High-L Osteotomy, also known just as High-L, which is a cut at between 30-90 degrees. This is done by creating a cut towards the front of the cheekbone. This cut provides more volume to be reduced which can satisfy the patient the best. 
To put it simply: A Low-L cut will give you a small reduction and a High-L cut will give a bigger reduction.
After Surgery
Since cheekbone reduction is considered to be major surgery, there will be some side effects. You could experience the following things:
–      Bleeding
–      Infection
–      Anaesthesia risks
–      Hematoma and skin discoloration
–      Scarring
–      Pain
This is why choosing only the top team to perform your surgery is important and why Seoul Guide Medical exists. We are here to make sure you get the best doctors, the best team, and the best experience. Our recommended plastic surgeon will of course explain everything to you and have the utmost care for you as their patient. 
After the surgery, it is recommended not to exercise too strenuously for 1-2 months and only go on short walks. Walking is important for your recovery as it speeds it up. Staying in bed all day actually slows it down. Here is an outline of the recovery schedule that you can expect but it will differ a bit from person to person:
First, there is the day of the surgery. We will assist and be at your complete service to make this day as comfortable as possible. When you wake up after the surgery we will be there as well to help you with anything you might need.
Aftercare Visits
The day of the surgery and is now over and we'll transfer to the aftercare visits. The first visit is already after 3 days. On this day they'll disinfect the wound, check the process, and as an additional treatment will provide you with shampoo service. 
The next visit is a week after surgery where we will take you to the clinic again and APL or infrared management that helps cleanse and remove dead skin cells, regenerate skin and relieve swelling. 
The third visit is two weeks after the surgery. On this day the sutures will be removed, and the plastic surgeon will use RF radio frequency or ultrasonic treatment for healing and reducing the swelling.
After this, the visits get a lot less frequent. There should be periodic progress checks in the next 1 to 6 months, where the surgeon will perform a CT scan or X-ray to check on the internal healing process. 
The healing process is as followed. After 1-3 months 80% of the wounds have been healed. In this time period, you can return to your daily things. However, you should still be careful with the restrictions the doctor gave you beforehand, like no smoking, no swimming and if you practice boxing, don't receive hits to the face or don't box for the time being. 
After 6 months 95% of the wounds have been healed. However, things could still be sore and you should treat the area with care. You're now halfway through the healing face and although 95% of the wounds have been healed, it still isn't 100%. 
After 12 months 99% of the wounds have recovered. At this stage, internal healing will go at a much slower rate and it can take up to 1-2 years for full internal healing in some cases. Most cases will have recovered fully internally at this point. 
As for the swelling, after 1 month you will look normal to others but you'll see some swelling. This swelling will be 80% gone by 3 months. From this time on, improvements in swelling will go slower. After 6 months all swelling should be gone and only internal healing is left. 
Before and After Photos
To get a better visual idea of what the surgery will do and how it'll make your face look, here are some photos for you to visualize it better.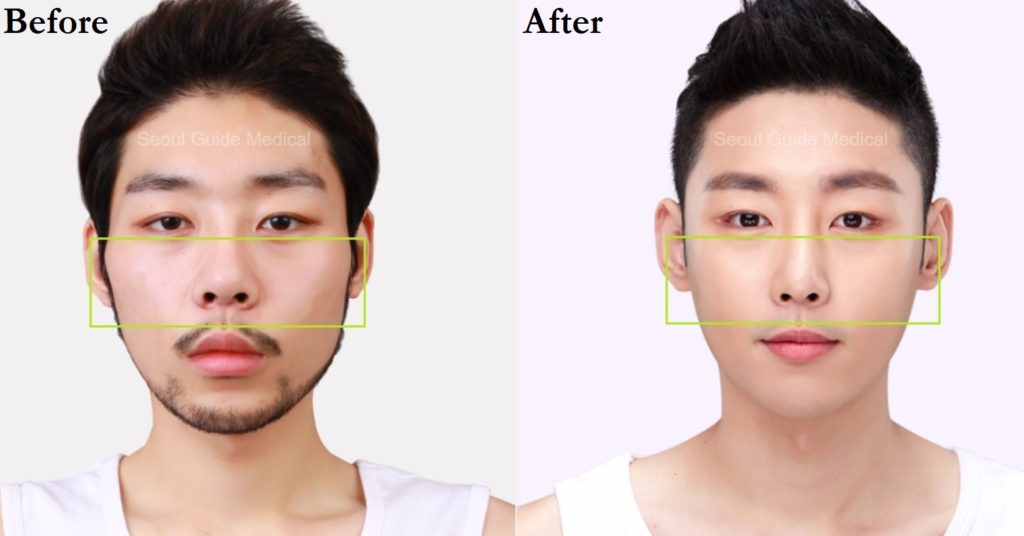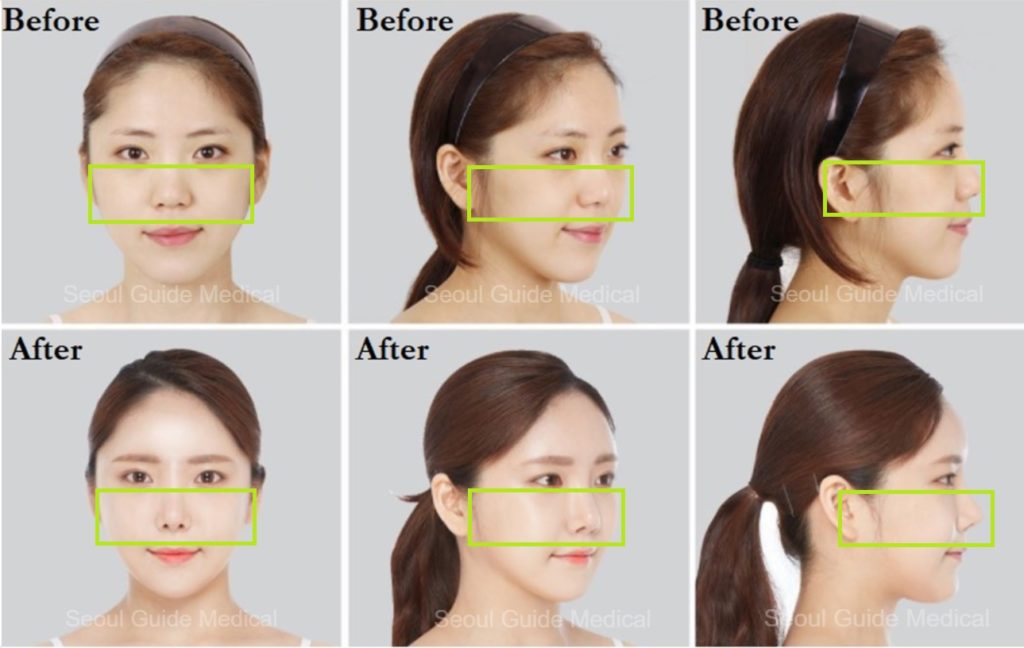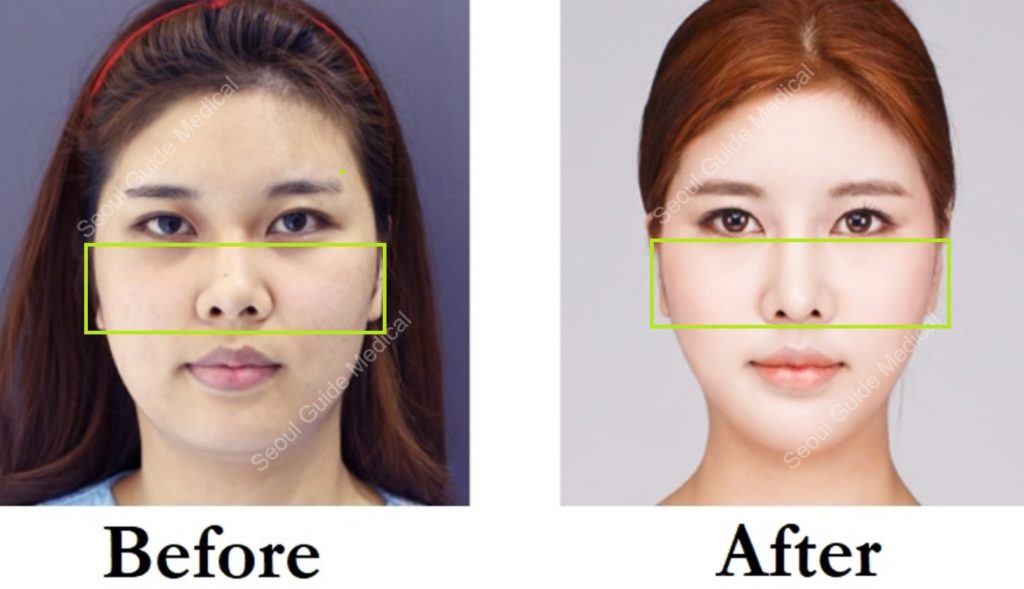 Is it for me?
First, it's very important to know if this is something for you. If you're not satisfied with your facial width because of the broadness of the cheekbones, then this procedure could be for you. Do note that the best individuals for this procedure are:
–      Individuals who have broad cheeks due to wide cheekbones
–      Individuals who have good overall health 
–      Individuals who are not satisfied with their facial width due to their "chubby" cheeks
–      Individuals that have realistic expectations of the results of the surgery 
The last point about having realistic expectations of the results of the surgery is very important. Often it is found that when people want to undergo surgery, they have an image in their mind of the end result. This however might not be realistic. When undergoing zygomatic reduction surgery, the plastic surgeon will cut into bone. In the face are a lot of nerves and blood vessels and other structures thus are limited to what the final result can be. The result has to be in balance with your other features and is limited by your own structures. You will be able to improve as much as you can improve so having realistic expectations is key.
What can I do before the surgery?
First, it's important to remember that cheekbone reduction surgery or zygoma reduction is considered to be major surgery. This means that patients have to follow strict preparation instructions before they undergo surgery. This entails:
– No drinking or eating at least 6 hours before the start of the operation but some doctors prefer fasting to happen for longer periods
– No aspirin, anti-inflammatory, and herbal medication approximately 2 weeks before the scheduled operation
– No smoking at least 4 weeks before the procedure if possible
– No alcoholic beverages 2 days before surgery
–          Stop taking vitamins for 1-2 weeks before the surgery according to the doctor's recommendations
Seoul Guide Medical staff is here to assist

At Seoul Guide Medical we want you to have the best experience in plastic surgery done in Korea. Our excellent staff is here to help you with all your questions and with the journey you're going to take.
We provide online consultation with our staff. They know everything there is to know about plastic surgery and can answer all of your questions. After this conversation, Seoul Guide Medical develops a treatment plan in collaboration with many specialists and gives you different options depending on your needs. You tell us what you want, and we'll arrange everything. There's no need for searching online and looking at dozens of skin clinics, we will do that for you! We have collaborations with only the best plastic surgeons and they are all government licensed, which means you're in safe hands!
After you've chosen the best treatment plan for you, it's time to come to Korea and we will be supporting and helping you in any way possible all the way up until the surgery day. So in short, we go with you to the clinic, help you with the paperwork and make sure you have the best and most comfortable trip to Korea. 
As mentioned earlier, we only choose the top professionals in their field, all of the doctors are government verified, and the clinics all use CCTV which makes it a safe area to perform. 
In summary, our Seoul Guide Medical staff will take care of you before you come, while you're in Korea and always be here for you in the future. 
How much will it cost?

The price range is difficult to determine since there are a lot of factors that all play a role. These are things like the level of clinic, the difficulty of the case and the length, time of the surgery, and the level of doctor within the clinic. For example: is the doctor a specialist? How much experience does he have? How often do they perform the procedure? We at Seoul Guide Medical check all of this and all of the doctors are SGM-verified.
With this being said, and mentioning again that all of these factors play a role in the price range, the price range for Zygomatic reduction surgery is around 4000 USD  to 9000 USD. Paying the most expensive price is not always necessary but it depends on your case.  Similarly, expert doctors will not want to do surgeries at the lowest pricing points since they are in demand and their schedules are full. The exact pricing point is best determined by going through a Seoul Guide Medical full consultation and getting a customized treatment plan. 
What's next?
If you're ready to come to Korea and create a smaller face by using our services, contact us at Seoul Guide Medical.
Our experts are waiting to help you out and give you the best experience in plastic surgery in Korea!
If you would like to come to Korea for plastic surgery, skin care, laser eye surgery, hair transplantation, dentistry, or other medical procedures, contact us for a free consultation at:
Or by calling/texting us on:
Phone (WhatsApp/Kakao/Line): +82-10-5920-5546 (Mon-Fri 9.30am-7pm, Sat 10am-2pm Seoul time.
Will the metal screws and plate in the Zygomatic bone be seen when going to security at the airport?
How long does it take for a cheekbone to heal?
Even with the screws (and plates) in place it still takes about 6 weeks to heal completely. During this period it's important to be careful to avoid an injury to this area of your face as it may cause the cheekbone to move out of position.
Does it hurt to have cheekbone reduction surgery?
According to plastic surgeons, cheekbone reduction surgery can be experienced with a minimal amount of pain. At Seoul Guide Medical we're happy to help if you have any concerns.
If I get cheekbone reduction surgery, will I get sagging cheeks?
For those people who experience sagging skin easily, such as who has less elasticity in their skin, the doctor can perform a skin tightening technique where an anchoring system is placed on the inside, towards the nose, of the screws and plate. This will make sure the skin keeps its tightness.
What can I eat after cheekbone surgery?
The incisions will also be on the inside of your mouth, therefore it could be best to avoid hard and sharp foods, like chips or candy. Try to eat soft food such as rice porridge or soups.
How can I heal faster after plastic surgery?
To heal the fastest you should: Take all medication the doctor prescribed Walking is a great way to speed up your recovery Maintain a healthy diet. Include lots of fruit and vegetables. Although walking is great, taking enough rest is important as well Follow-up appointment. If you follow these and maybe additional things you're doctor has said, you'll heal in the best and fastest way possible.
Who is not a good candidate for cheekbone reduction surgery?
What are additional surgeries that can go well with this surgery?