Buccal Fat Removal is a cheek fat reduction procedure rising in popularity. A perfect face contour was always a sign of beauty. With the growth of social media, an increased desire for an aesthetic face shape also grew. Nowadays, you can see how people opt for Cheek Fat Reduction in the form of Buccal Fat Removal more and more to get the ideal look.
What is Buccal Fat Removal?
Buccal Fat Removal is a cosmetic plastic surgery procedure for the reduction of cheek fat. Not always do full cheeks, and the appearance of a full round face, makes someone look more youthful. Patients that undergo Buccal Fat Removal are not happy with their full cheeks, consider them chubby, and overall desire for a sharper face contour. 
During a Cheek Fat Reduction surgery, the buccal fat pad is being removed. A buccal fat pad is the deep fat layer inside the cheeks. Therefore it plays an essential role in the face structure. The buccal fat pad can come in all different sizes, even in each cheek, some have a thin layer; some have a thicker layer. Patients with a thick fat pad do not have a sharp face contour and appear plumper than they actually are.
Cheek Fat Reduction by removing the buccal fat pad is ideal for patients with a chubby appearance that desire a reshaped face contour. It is not recommended for patients with a thin buccal fat pad or narrow face as the removal would not offer the same results as for patients with a fuller face.
For older patients, Buccal Fat Reduction is also an excellent anti-aging procedure. Aging causes the fat pad inside the cheek to start sagging down, giving an unpleasant impression for many. Surgery for Cheek Fat Reduction can get rid of such fatty tissue, resulting in a younger look. 
Buccal fat pad removal is often performed with other facial rejuvenation procedures to improve the overall appearance of the face and maintain long-lasting results.
Buccal Fat Removal Procedure

Before any procedure, it is always important and necessary to have a consultation with your plastic surgeon. He will make sure you are the right candidate for Buccal Fat Removal and discuss further details about the desired results, procedure, and recovery.
Local or general anesthesia, depending on the plastic surgeons' decision, will be administered to the patient shortly before the Cheek Fat Reduction surgery begins. Once it has taken into effect, an incision will be made on the inner side of the cheek. The buccal muscle will be safely dissected so the plastic surgeon can approach the buccal fat pad and remove it. For easier removal, pressure on the cheek from the outside is applied. Once the fat pad is removed, the incision will be closed using absorbable sutures for faster recovery. There will also be no visible scar. The results immediately deliver a beautifully contoured face, especially a slimmer contoured cheek area; however, it will take several weeks to see the total final results.   
Cheek Fat Reduction surgery usually does not last longer than 30 minutes.
Buccal Fat Removal Recovery
After the operation, it is essential to avoid playing with the sutures with your tongue so as not to cause any complications and allow a fast, successful healing time. You will also be advised to go on a liquid diet for the first days to avoid a disruption in the sutures. You may be prescribed to use a special mouth wash to prevent possible infections. 
Patients experience mild swelling during the first weeks of recovery. The swelling will resolve step by step within 2-3 weeks post-procedure. Except for the slight swelling, there is usually no discomfort during recovery. It takes 7-10 days for the tissues inside the mouth to recover from the operation. Overall recovery time only requires 2-3 days to heal.  
Buccal Fat Removal In Korea
Although Buccal Fat Removal is a fast and straightforward procedure, it requires skilled surgeons that are experts in their field. South Korea is the ideal place to get any plastic surgery done, as well as Cheek Fat Reduction, since plastic surgeons are considered as the highest qualified plastic surgeons in the world. 
Korean doctors understand the structure of the face even to the smallest detail and can, therefore, shape the face into stunning natural-looking results. They do not just offer great results but also excellent pre and after treatment at Korean clinics. Having surgery done in South Korea is very safe and worth it.
Buccal Fat Removal Before and After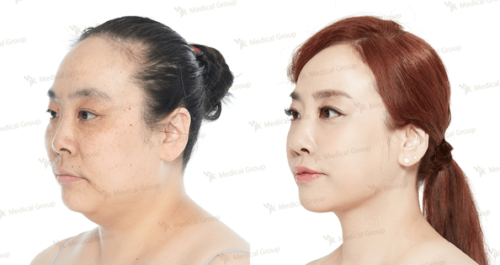 Before having Cheek Fat Reduction done, the patient has visible fuller cheeks beginning to sag down. The full cheeks make the patient a perfect candidate for buccal fat removal. 
Once the buccal fat pad was removed, and the patient recovered, the new facial contour is visible mostly in the mid-face area of the face. The results give off a youthful impression. This patient underwent Buccal Fat Removal, together with other surgeries. 
Buccal Fat Removal or Cheek Fat Reduction creates facial harmony by removing buccal fat pads inside the cheek. The results are sculpted, symmetrical, and a youthful facial appearance. It is an easy and safe procedure carried out by board-certified plastic surgeons. If you are the right candidate for cheek fat reduction and are thinking about improving your looks and boosting your self-esteem, Buccal Fat Removal might be the correct procedure for you. For more information about cheek fat reduction in South Korea, contact Seoul Guide Medical.
FAQ:
Are The Results Permanent?
Yes, Buccal Fat Removal has permanent results that will define your midface with a natural-looking contour. It is essential to know that the skin will continue to age and can cause cheeks to look slightly hanging, to avoid that and maintain a young-looking skin it is recommended to do a facelift together or after Buccal Fat Removal.
Does Buccal Fat Removal age you?
It depends if you are the right candidate or not. Suitable candidates with a thicker fat pad in the cheek will look younger and firmer after the procedure. However, for patients with thin, fat pads, this type of procedure is not recommended as it could result in the opposite of what the patient wants to see. Your surgeon will let you know if you are the right candidate or not after examining your midface area and cheeks.