Have you ever been insecure about your small breasts? Do they not flatter your body? Have you dreamt of wanting voluptuous breasts? It is your lucky year! As Seoul Guide Medical offers an extensive line of breast implants and surgeries for your dream goal this 2022! Like a genie in a bottle, we can work like magic, and we are going to be your guide as you partner with us in your breast augmentation surgery here in Korea. Take a step into our magic carpet and experience a whole new world for your luscious breasts!
What is Breast Augmentation?
The female breast has been a symbol of feminity for decades. Thus, the focus is giving importance to its aesthetic form. The ideal size and shape of the breast can depend upon the individual's build. Female breasts do not grow to the same size and shape; sometimes, some individuals have smaller than average breasts, colloquially referred to as flat-chested. They feel disappointed about the development of their breast. That's why they resort to correction and reconstructive surgery.
Breast Augmentation is the reconstruction of the breast to balance the body profile into a proportionate figure. It enlarges the chest using the power of evolving medical devices such as breast implants. Since its introduction in the 1960s, breast augmentation has been a commonly performed cosmetic surgery. It has been proven clinically safe and effective in bringing volume and fullness to the once flat-chested with countless studies and research. With the correct assessment and the proper surgical techniques, breast augmentation can produce a positive outcome for the body image.
Are You A Good Candidate?
Seoul Guide Medical recommends breast augmentation surgery to those who:
are concerned about their small breasts and want to enhance this
have asymmetrical or uneven breast size
have experienced physical change due to weight loss or breastfeeding
are looking for more breast volume
have realistic expectations about the outcome of the surgery
Those who want to correct sagging breasts due to weight loss or pregnancy with breast surgery need to know that implants alone might not work. In some cases, you may need breast lifting as well.
Also, having realistic expectations is essential in this procedure. The surgeon may choose a different size, placement, or different type of implant from your choices. However, you do not need to be alarmed, for they have made calculated decisions depending on your body type. Our highly qualified surgeons have the best intentions, and they want what is best for you, more natural and realistic results.
How Do We Choose The Right Breast Implants For You?
At Seoul Guide Medical, we value your choices. We take into consideration your opinions. And we guide you to the right and best options available. Many breast implants are available in the market made of various base materials. However, some are not durable and are substandard. We offer only the best implants made of top-tier and high-quality products. Through implant simulation, a perfectly designed implant will be chosen for you by our esteemed doctors. Our board-certified plastic surgeons will be helping you decide what is right and what looks best on you. Silicone gel implants dominate the global market with the continuous development of their design and functionality. Here at Seoul Guide Medical, we partner with only the top 1% of the best clinics and hospitals that offer high-end branded implants proven safe with timeless clinical trials.
Types of Breast Augmentation Implants
There is quite a variety of types that is available in the market. Depending on the feel, size, and shape, there will be a breast implant that perfectly fits you. The core of a successful breast augmentation is selecting the right breast implant. Although saline implants are also available, most plastic surgeons recommend medical-grade silicone gel implants. Silicone implants are said to be much more durable than saline ones.
The optimal breast implant comes in a size that would be appropriate to your body in terms of weight, skin thickness, body shape, and your needs and wants. For example, 150 cc – 200cc equals roughly 1-1.5 cup sizes, and for thin patients to get 300 cc implants would not look ideal to them. No matter how big your ambitions are, we focus on implants that can give you a more natural and realistic look. Having the right fit would not hinder your daily activities, and you will have long-term satisfaction with the size that best suits you. Each type of breast silicone implant comes in different shapes and surface textures.
1. Shape
It is ideal for those who already have sufficient lower half breast tissue but require more volume in the upper half of their chest. It provides a fuller and curvier look giving a more prominent cleavage. The implant filler material will spread outwards when you lay down, but the shape will remain similar whether standing or laying down.
Ideal for women with less breast tissue, anatomically shaped implants with more volume in their lower half. The look created is one of a gently sloping curve towards the nipple as natural breasts have. These implants provide less of a round look in the top half.
2. Surface
These are softer in feel and rounder in shape. Once implanted, you can move around more freely during activity because it is similar to natural breast tissue. Most patients choose this type of implant because of its natural look.
These were primarily introduced to maintain abreast implants position once filled, but the clinical use seemed to show a decreased incidence of capsular contracture. Most textured implants are round and teardrop-shaped as it mostly adheres to the breast tissue because of their surface design.
The Surgery: What You Need To Know
Our specialists will do an extensive assessment before a patient undergoes breast surgery. Here is the overview of how the surgery process will proceed.
Each individual has a unique breast structure; every surgery will be customized according to the different factors assessed during the consultation. Every surgery method will be done safely in the hands of our highly-qualified surgeons and trained staff. Your safety and satisfaction are our top priority, as we will guide in every step of the way.
Implant Placement Techniques
There are various types of surgery placements for a boob job in Korea. Here is a comparison with its advantages and disadvantages.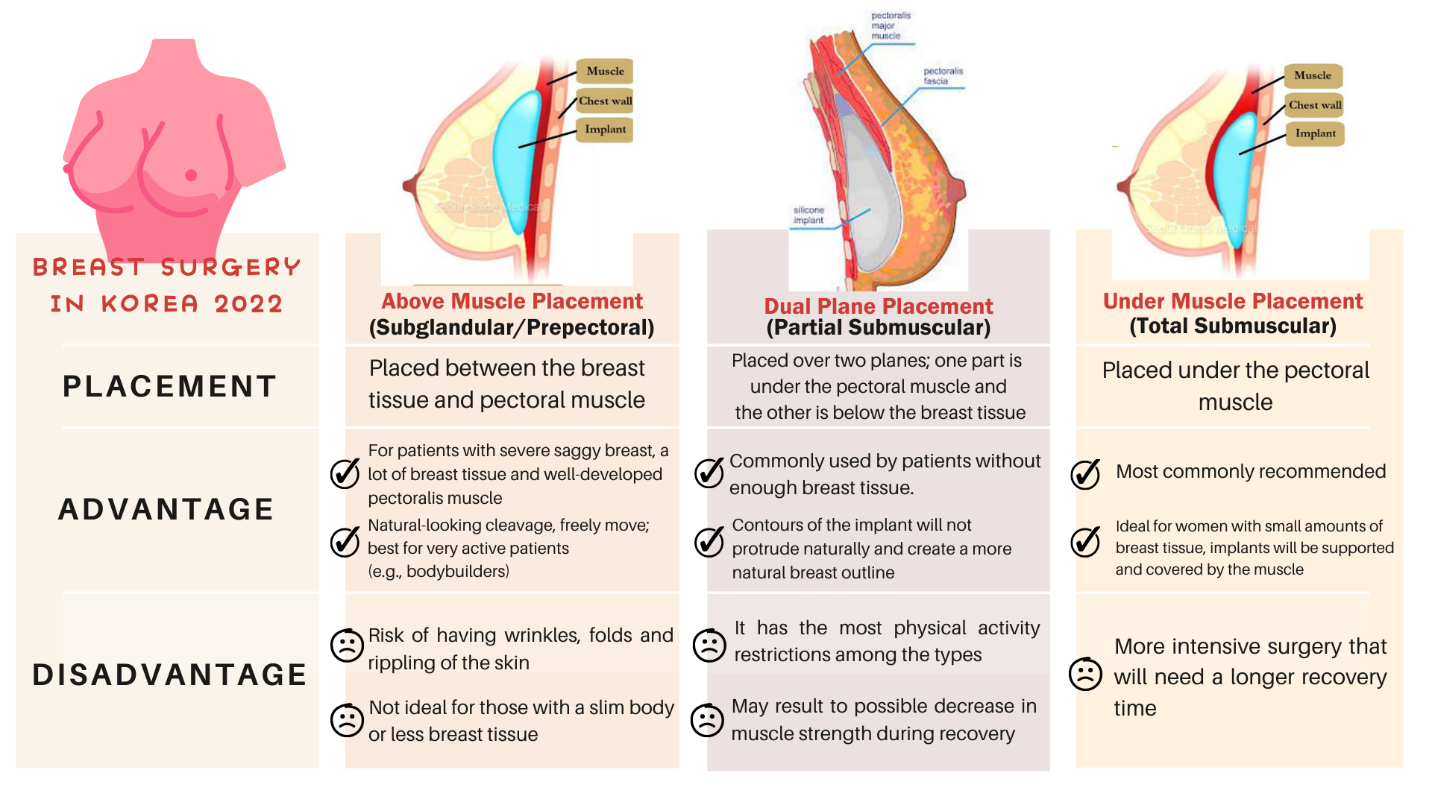 Breast Incision Methods
This is where the breast surgery incisions will occur, where the surgeon will insert the breast implants. Our expert doctors will guide you in choosing what is more advantageous and ideal for you.
Essential Surgery Information
Aftercare
Aftercare is as crucial as the procedure. We will take care of you from your consultation until you are safe to travel back to your home. As breast augmentation is a significant surgery, post-surgery care is essential. It is best to follow all the directives your surgeon instructs you for it to be considered a successful operation. Sure, there will be a lot of discomfort for the first few days, and you will have to wear a compression bandage to keep it intact and in place. Your doctor will also prescribe pain medications for you to help ease inflammation. Smoking and drinking are prohibited for at least four weeks after your surgery as they may affect your recovery. Aftercare massage is also vital to surgically placed silicone implants.
Why in Korea?
Korea is a haven for medical tourism. Colloquially known as the Plastic Surgery Capital of the World, it offers only the highest quality breast surgeries with innovative techniques, board-certified plastic surgeons, and very accommodating staff. Boob job in Korea is one the most common surgeries done, with increasing foreign travelers seeking the expertise of our specialists and wanting to experience top-grade facilities and equipment. Silicone implants used for the boob job are medical-grade, with the best durability and functionality that gives long-term effects and satisfaction. It also is very affordable compared to other countries that offer breast surgery. It ranges from 5,000 USD to 20,000 USD only!
After your boob job surgery here in Korea, you will leave with no regrets and will want to come back for more. Experience plastic surgery with us. Seoul Guide Medical will guide you in choosing the best silicone implant that is perfect for you. We will be with you every step of the way. Consult with us today and learn how you can start your breast surgery with us!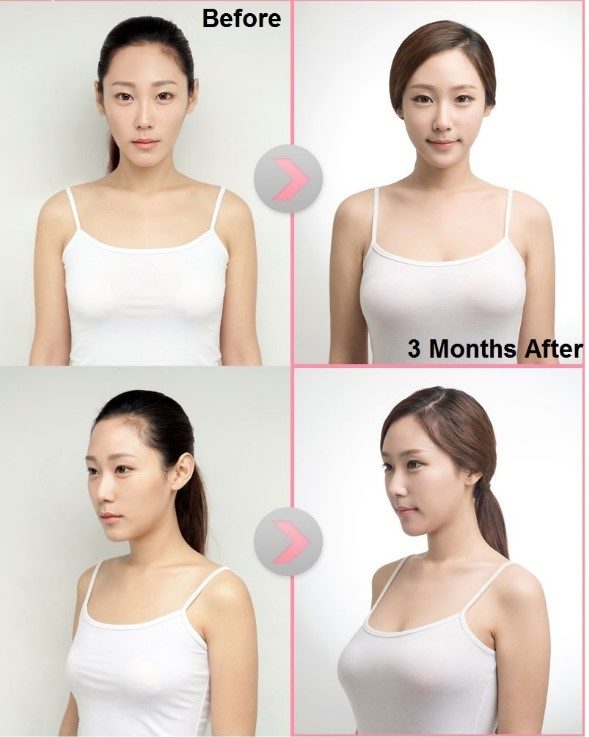 As leaders in medical plastic surgery tourism in Korea, Seoul Guide Medical offers skilled, state-of-the-art facilities and innovative medical-grade silicone implants for your boob job. Whatever your reason for undergoing breast augmentation, we stay to our name as your guide. Korea pioneers the idea of having the most natural, aesthetic look after your boob job instead of enlarging your breasts. Breast augmentation is not only the enlargement of the breast but also the enhancement of the patient's natural proportions to create a more symmetrical and aesthetically pleasing breast profile. Korea offers tailored procedures to meet your goals. Check out success stories from our clients on our youtube channel. Consult with us today!
FAQs
When Can I Return To My Normal Daily Life After Surgery?
Generally, you can return to your daily routine after one week; however, it depends on your definition of a daily routine. When your everyday life consists of a light workload such as desk and office work, one week of recovery time will be enough for you. But if your routine consists of a heavy workload such as walking and traveling daily, your recovery time may be longer than usual. We recommend that you consult and discuss what is best for you with your physician before your discharge.
Will There Be Side Effects After My Breast Surgery?
Like any major surgery, there will always be risks. Your doctor thoroughly discusses these risks and precautions before you undergo breast surgery. Boob jobs in Korea are generally safe procedures with minimal side effects. Side effects after your breast surgery include bruising, swelling, and pain. Capsular contracture is also a widely known complication of breast augmentation surgery where the capsular firmness is formed around the breast implant. Postoperative massage can help reduce the risk of capsular contracture. At Seoul Guide Medical, our surgeons are experts in minimizing such side effects.
When Can I Start Wearing A Bra?
There are no specific rules prohibiting patients from wearing a bra after their breast surgery. However, it is essential to note that incorrect wearing of bras immediately after your boob job may cause unnecessary constriction leading to a distorted breast shape. Therefore, we recommend that wearing your bras should be put off for a month. Instead, you should wear a fixable bra at least 14 days after your boob job. Much later, you can also opt to use nipple pads or tapes that are becoming a trend nowadays.